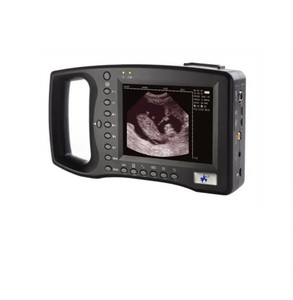 WED-2000AV
WED-2000AV is a portable ultrasound system which has become quite popular because of its innovative design. It has multiple advantages such as user-friendly interface, lightweight, accurate imaging and easy to carry at off-sites. You would feel free from the clutter of cords as this machine is battery operated. WED-2000AV is an excellent choice for small veterinary clinics and health care institutions that have limited space.
WED-2000AV comes with a 5 inch TFT LCD monitor which produces crystal clear images reducing visual stress. This ultrasound system is extremely user-friendly and designed ergonomically. It comes with a built-in rechargeable battery which has usage capacity of three hours continuously and can be charged by car charger or normal AC adapter. Veterinarians can use WED-2000AV to diagnose feline, canine, ovine etc.
KeeboMed Inc. has a huge collection of WED-2000AV ultrasound machines which have been checked for quality and full functionality. So what are you waiting for?